I was in my first ever secret pal swap and I have to say that if this is what happens with secret pal swaps........I am sooooo doing it again

First emails flying back and forth do you like .??? what about?? have you ever thought of?? What was discovered is that I tell people oh I am sooo easy to buy for why do you have a problem you know what I like. I guess I was way off base, the first thing that was pointed out was that I do not do things for myself. I crochet for others and I do plan on doing things but somehow it lands in someone elses hands.
This is the
first package
received by my UKSP (unknown Secret Pal) received was a pen, vanilla bath salts and a tote---who doesn't need a tote especially if you are a crafter. And it is large enough to carry a WIP (Work in Progress)
Here is the second package that was received by my UKSP sent by a fellow Crochetville member...hand made stitch markers. Beautiful and in a color that is spot on in my colors of choice. Thank-you Vicktoria -shown on a square I was working on for Hooking for a Cure


The
third package
had a doily (my UKSP handmade and stated it was her first time working with thread) I have to say at this point she inspired me to make one for my secret pal. Just to let you know my Secret pal did not get a thread project, I could not make it work....maybe I should blame the pattern. Yes that's it the pattern was written bad. Sorry off topic, back to the package, a doily, a journal, vanilla candle, letter K sticky notes, note cards, chocolate bugs, and a project pull here is a close up of the doily
Here is package number 4 (notice what it is sitting on???)

Then came the flowers....my UKSP sent daffodils through Fed Ex.....WOW and the day it came was a day after one of the largest snow falls. How perfect to see a bit of color and the reminders of spring with the cold and snow........I love her!!!
Package 5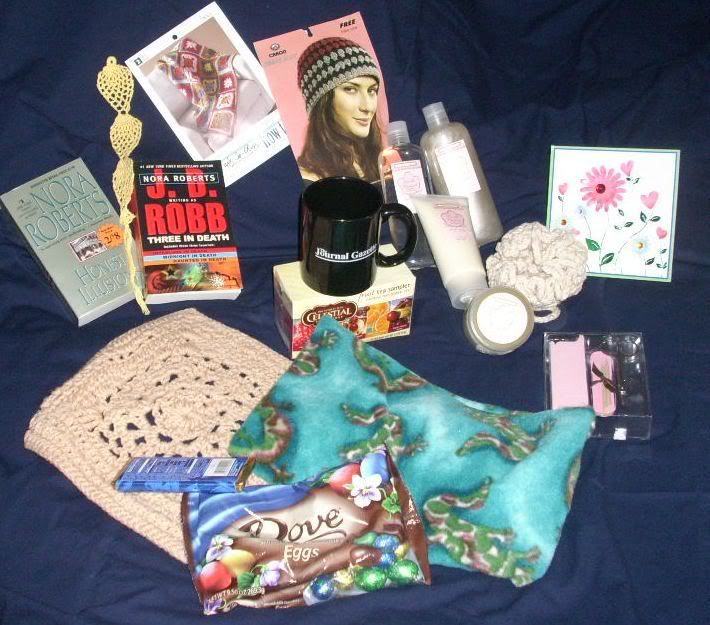 Next package was a pamper myself pack, filled with all kinds of goodies, Truffle bar, Doves Chocolates, pedicure set, body scrub, body lotion, bath gel, bath salts and bubble bath Vanilla scented. Two project pulls, Nora Roberts books, book marker (again handmade), herbal tea, coffee cup with a clue on it (she's a journalist - oh, oh now I have to watch how I write my thank-yous and other conversations LOL) a heat package for soothing sore muscles with a scent rice package - too cute it has lizards on it.....the name of group
the leaping lizards
and a small clue about the reveal package a tan square.........
Package 6
( I know I could not believe it either) way too much spoiling -----hello darling husband do you see some special treatment going on??

This was a kitchen themed package, homemade scrubbies, dishclothes, the cutest dress (I would say a pot holder??) To pretty to use for that I may make them a fridge. Chocolate bunnies, "to do" list, sachets, receipe box with cards (included are two receipes-looking forward to trying them) coffee, coasters, vanilla candles ~ I love candles :)


At the end of 8 weeks comes reveal package and know you'll know who your secret pal is.
I have been honored to receive all of these things made just with me in mind. I have been on the receiving end of a true friend and that is the underlying reason I wanted to join the swap. I have read on Crochetville of the friendship that comes from Swap partners. And to be honest with you to have someone to talk to about the art and craft of crocheting (heaven to me) my family just nods and smiles when I talk about my passion and why I do crochet: to make someone feel special and that is what I have felt during this entire SWAP.
Here is the reveal package, my secret pal is Joyce (jmccrochet) at crochetville, she lives in Indiana and is a very sweet person and I appreciate the fact that I was partnered up with her
Thank you moderators :)

Included were 19 squares (the 20th in package #5) for a friendship ghan, a gift card to purchase the yarn for assembling, hooks, a hook case, yarn cutter, pattern pulls, vanilla candle, doves chocolates with almonds (mmmmm), Starbucks truffles, a yellow tote, note pad, and Jan Eatons 200 crochet blocks (perfect for my charity work) and a Jimbo chopstick hand carved wooden hook.


Here are the close up of the squares (I have included photos of the jimbo hook with them)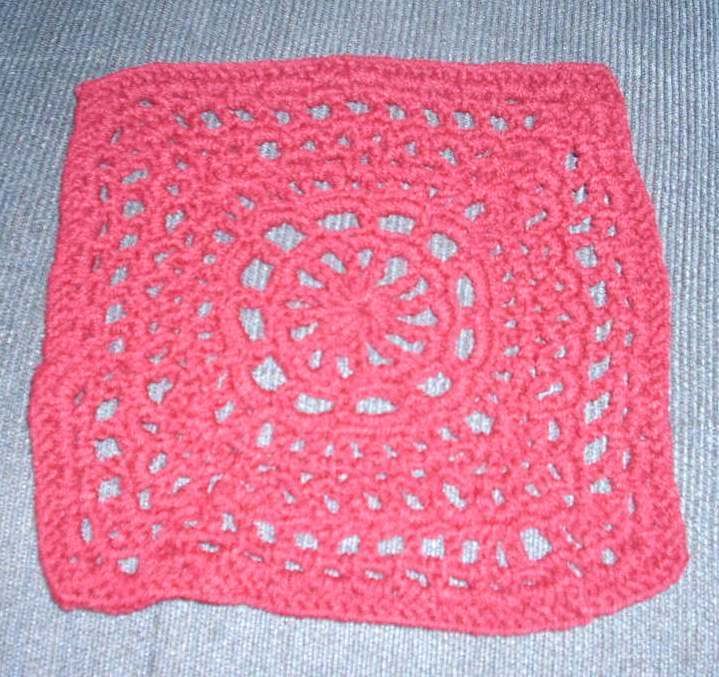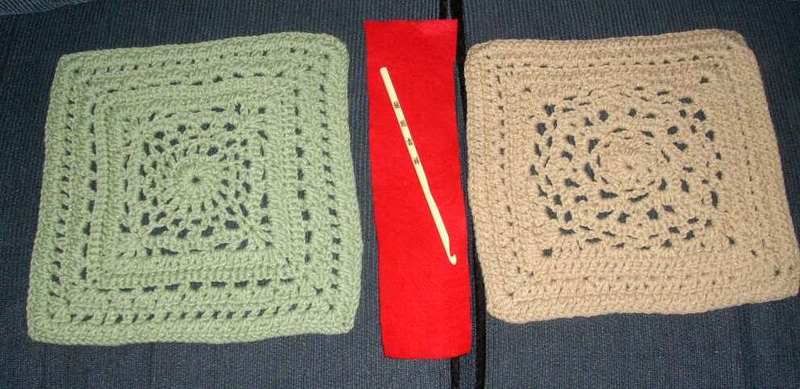 Thank you Joyce!!!!
I loved the entire time and look forward to a growing friendship